Business Outlines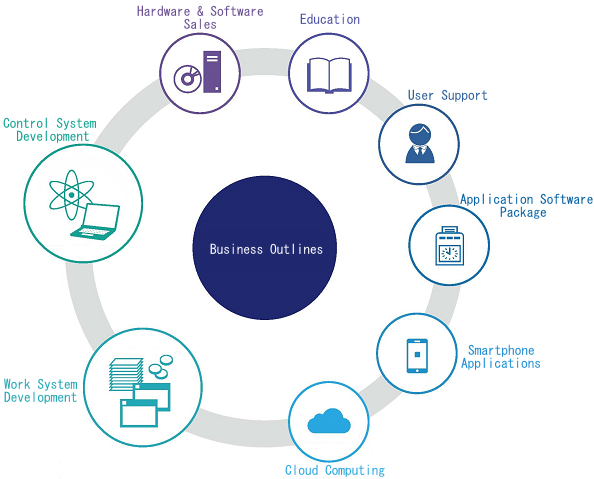 We can hardly conceive of most of modern society's convenience, amenity and security that we enjoy, without the help of IT technologies.
Data Process Service provides a variety of services utilizing its IT technologies, in various fields broadly classified around two pillars: "Control System Development" for sectors of a highly public nature such as networks, railroads, transportation; and "Work System Development" for a wide range of business sectors including finance, logistics, production management, and medical care.
Control System Development
Solid credibility, as well as exceptional technological skill, is a must for a developer of control systems in sectors that have a highly public nature and are thought to comprise social infrastructures, such as networks, railroads, and traffic management. We have worked in these sectors for over 30 years earning high trust from our customers.
Work System Development
Various work systems support efficient operation of all kinds of businesses that mobilize and activate the society. We have an ample track record of supporting entire phases of these work systems' development, from consultation to software development, implementation, system operation, and maintenance.
Hardware & Software Sales
We propose and supply reliable hardware and the most appropriate software, according to the needs and budget of customers.
Education
We provide practical programs such as novice computer user courses that include use of smartphones and tablets as well as programming courses for engineers, for the purpose of training industry-ready personnel.
User Support
We have a dedicated "support help line" to promptly provide advice needed in the course of system development and address system problems, with the keyword "always rest assured".
Application Software Package
Application software packages, simple and easy to use by focusing on core functions only, are suitable to be utilized by small to mid-size users who cannot afford a full-time IT staff.
Smartphone Applications
We develop Android- or iOS-based applications for smartphones, including medical systems and GPS, ranging from individual-use tools to applications to enhance business capabilities.
Cloud Computing
We build virtual server systems effectively utilizing cloud computing for core industrial firms, and provide SaaS products to be used in a wide range of sectors including medical and logistics.